The Beta
From the SGL Gate 36-30 continue along the old access road for 10 minutes (0.5 miles) and enter the forest on the left downhill slope into an open pine forest. Follow the herd path 2 minutes (50 yards) to the boulders. You should be looking downhill at the back of Tall Boy

. From here you can either traverse through the boulderfield. North (left) towards

 or south (right) towards

.
Tip: It is a lengthy boulderfield with lots of small pits to fall into. It is suggested to hike padless to view the entire boulderfield instead of traversing to see what's, what.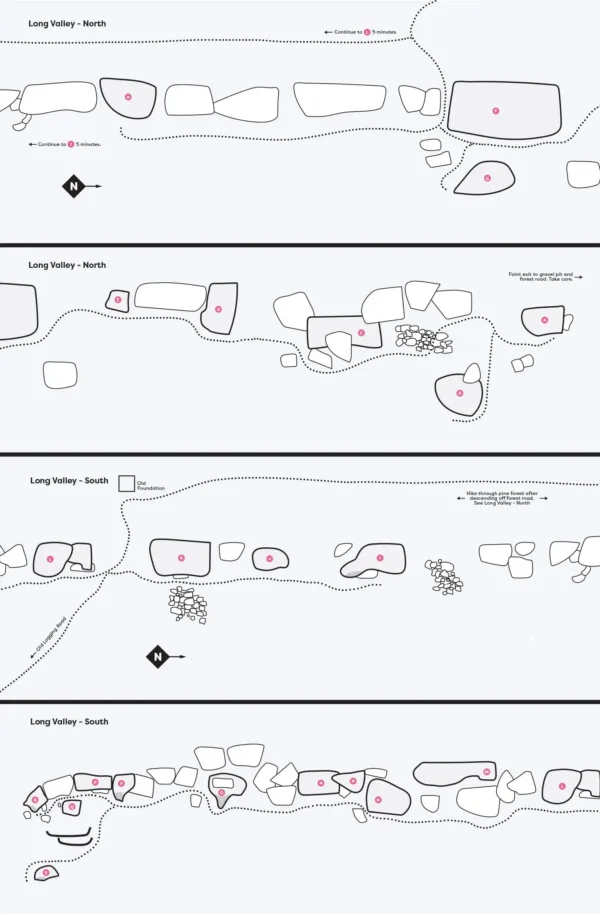 Micro Approach Beta
Once descending off the forest road into the pine forest, continue right (south) until you reach an old foundation. Continue on the faint logging road to reach the Bottom Boulder

. From here traverse right (south) to the end of the boulderfield. It is possible to travel back north but, is quicker to return to the forest and follow the Long Valley – North approach.
From the forest road, descend to the back side of Tall Boy

and continue left (north) to the end of Long Valley – North.